The Edinburgh Realty eNewsletter
Issue #80 | November 2019
Archive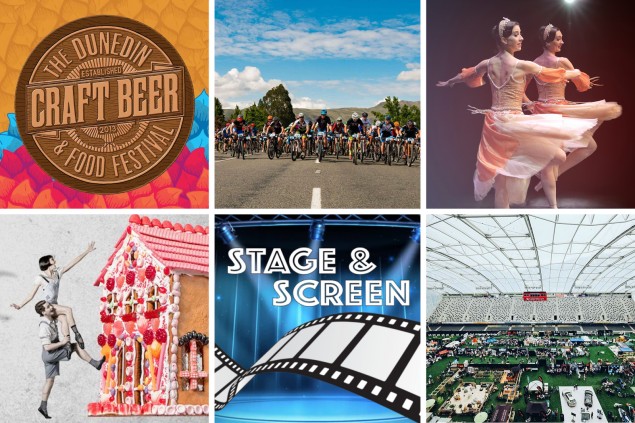 What's on: November in Otago
Check out what's on this month across Otago.
From designing a new home, kitchen or bathroom, to making the one you have happier and healthier, get inspired at the Home and Living Show 2 - 3 November at the Forsyth Barr Stadium. There's plenty for foodies to enjoy with cooking demos, celebrity guests and competitions featuring Dunedin's top chefs. Got your tickets for the Dunedin Craft Beer and Food Festival? This time there's an R18 event on Friday 8 November and a family friendly event on Saturday afternoon. Soak up the well crafted beer, food and sounds by the Phoenix Foundation, Hollie Smith and The Chills.
On the 15 November have a good laugh with the teams from 7 Days Live at the Regent Theatre. Then book a night from 21 - 30 November at the Stage and Screen Theatre Restaurant. Indulge in three acts of Broadway and West End hits over a three course meal.
On 23 November feast your soul on Swan Lake performed by The Imperial Russian Ballet Company at the Regent Theatre. Then lose yourself in the dark, captivating world of Hansel and Gretel on the 30 November, in a performance by the Royal New Zealand Ballet.
Treat yourself to a day out at the Cromwell Festive Fête on 24 November at the Cromwell Racecourse. Relax, enjoy the live entertainment, food, wine and beer, and do a little Christmas shopping at this family friendly event.
Feeling bikefit? Test your limits at the Nevis Valley Gutbuster with a 75km endurance ride from Garston through the Nevis to Bannockburn via gutbusting gradients and summits. A great way to finish off November, if not yourself!
Home & Living Show – Forsyth Barr Stadium: 2 – 3 November
Dunedin Craft Beer & Food Festival – Forsyth Barr Stadium: 8 – 9 November
7 Days Live – Regent Theatre Dunedin: 15 November
Stage and Screen – Theatre Restaurant: 21 – 30 November
Swan Lake – Regent Theatre Dunedin: 23 November
The Cromwell Festive Fete – The Cromwell Racecourse: 24 November
Hansel & Gretel – Regent Theatre Dunedin: 30 November
Nevis Valley Gutbuster - Cromwell Summer Series – Bannockburn: 30 November
L to R (Top) Dunedin Craft Beer & Food Festival - Forsyth Barr Stadium, Nevis Valley Gutbuster, Swan Lake - Regent Theatre Dunedin (Bottom) Hansel & Gretel - Regent Theatre Dunedin, Stage & Screen Theatre Restaurant - Musical Theatre Dunedin, Home & Living Show - Forsyth Barr Stadium