The Edinburgh Realty eNewsletter
Issue #59 | February 2018
Archive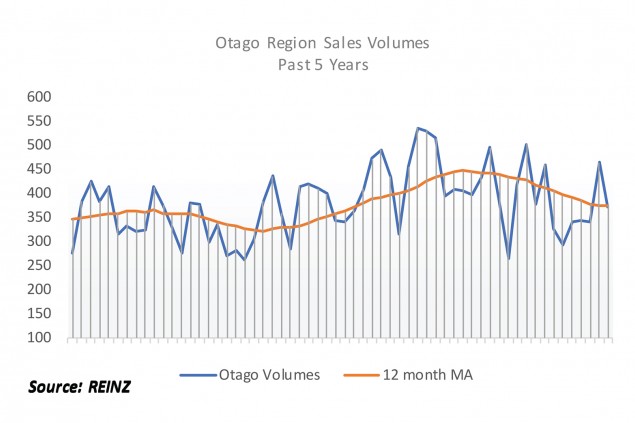 December volume down but buyers back in 2018
During December 2017, 197 properties changed hands across Dunedin city, according to the latest Real Estate Institute of New Zealand (REINZ) data.
This was 20 fewer transactions than December 2016. December 2017's median price was $380,000, up 16% compared to the $327,500 median of 12 months earlier.
Commentators say the Dunedin market is still strong, but could be beginning to level out.
Central Otago
Thirty-four sales were recorded in Central during December 2017, at a median of $418,000. The median price is 10% down on December 2016, with sales volumes also back over the period (by 8%).
What's happening across New Zealand?
Median house prices rose by 6% year-on-year to $550,000 – up from $520,000 in December 2016. Excluding Auckland, the median increased by 7% to $450,000 (up from $422,000 in December 2016).
REINZ Chief Executive Bindi Norwell says the $30,000 lift in median prices nationwide defies the predictions of commentators, who – 12 or 13 months ago – were adamant house prices would fall in 2017.
"While the increase will be welcome news to those looking to sell their property, for first home buyers this will not have been the Christmas present they were hoping for. Although there is some hope, as the rate of price increases has decreased significantly compared to previous years, meaning that – if the trend continues – there is more of a chance that those saving for a house deposit can keep up with increasing property prices."
The number of properties sold in December across New Zealand decreased by 10% to 5903 – down from 6567 in December 2016; the number of properties sold in New Zealand excluding Auckland decreased by 12% to 4184 (down from 4733 in December 2016).
"December represented a continuation of the theme we have seen throughout 2017, whereby the number of properties sold across New Zealand decreased every month when compared with the same month in 2016. It's a tough comparison, because 2015 and 2016 were very strong years for the industry and set quite a high bar, so any comparison was always going to be more moderate beside these outlier years," says Norwell.
REINZ House Price Index (HPI)
The HPI increased 4% year-on-year, to 2655. Excluding Auckland, it increased 7% from December 2016.
Five regions (Waikato, Bay of Plenty, Tasman/Nelson/ Marlborough/West Coast, Otago and Southland) all reached new highs during December, indicating strong value growth in these areas.
"As there appears to be less urgency for buyers to purchase a property, as well as for vendors to sell their property, we've seen sales count drop and the days to sell increase during 2017. However, as vendors have been holding steadfast to their pricing expectations, we've still seen the price of properties going up, which is reflected here in the increased HPI," says Norwell.
Data courtesy of REINZ