The Edinburgh Realty eNewsletter
Issue #119 | March 2023
Archive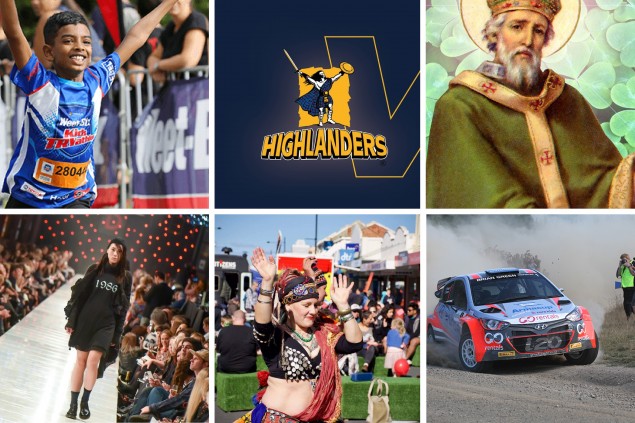 What's on this March in Otago
There's a fantastic range of culture, sports and fun to get your teeth into this month - from a Tryathlon and Irish fare, to international fashion, rally and rugby action, with a street festival to top it all off.
This weekend, get the kids out running, swimming and cycling at the Weet-bix Kids TRYathlon at Taieri College. Kids aged 6 to 15 years compete in teams of two and as individuals for spot prizes, with all entries receiving a medal, a pack of goodies and a great day out.
On Saturday 25 March, the Highlanders host the Fijian Drua for the first time ever at the Forsyth Barr Stadium. Head along to show your support for the lads at what promises to be an exciting, fast-paced match, kicking off early at 4:35pm.
Celebrate St Patrick's Day and Otago's Irish heritage with family festivities at the Toitū Otago Settlers Museum. On Friday 17 March, from 2pm to 7pm, there will be traditional Irish food and dance, films, talks, crafts for the kids, and a chance to explore your own Irish ancestry.
Cap off March in style, with the iD Dunedin Fashion Show, on Friday 31 March and Saturday 1 April at the Dunedin Railway Station. Experience the latest in edgy design from New Zealand and international favourites and newcomers, in a uniquely gothic setting.
On Saturday, 1 April, don't be a fool and make sure you get along to the South Dunedin Street Festival 2023. Soak up the festival atmosphere and enjoy the live entertainment, yummy food and enticing stalls.
For some off-the-rails end-of-month excitement, don't miss the Otago Rally, with the ceremonial start on Friday 31st in the Octagon, a tarmac super stage, and thrilling sideways action all weekend.
L to R (Top) Weet-bix Kids TRYathlon, Highlanders vs Fijian Drua, St Patrick's Day at Toitū Otago Settlers Museum, iD Dunedin Fashion Show, South Dunedin Street Festival 2023, Otago Rally