The Edinburgh Realty eNewsletter
Issue #114 | October 2022
Archive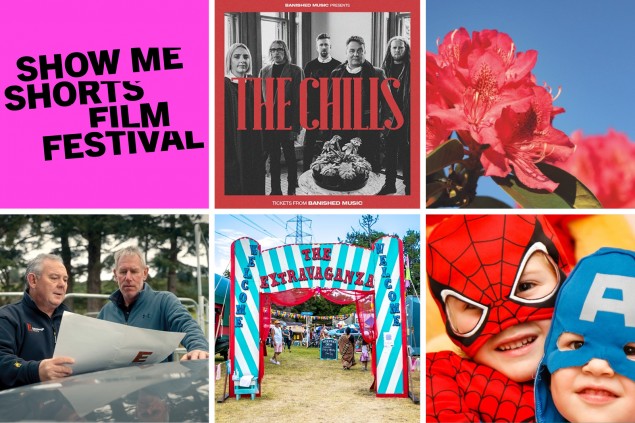 What's on this October in Otago
Looking to finish the year with a new career? Come along to our evening on 20 October to find out more about a real estate career with Edinburgh.
Away from work, there's plenty to keep you entertained this October in Otago. Sit back and enjoy a variety of highlights from this year's Show Me Shorts Film Festival. These are some of the most cinematic short films that will make you laugh, gasp or think more deeply about our world and the people in it.
Iconic Dunedin band The Chills are very much in the present, setting off on a 21 date North American tour later this month. Don't miss their Dunedin performance, 13 October at the Dive Bar.
Rain or shine, on Sunday morning, 16 October, bring along some bags and boxes and fill your boots with bargains at the Rhododendron Day Plant Sale at the Dunedin Botanic Garden. Enjoy a coffee, food and entertainment while you browse the blooms.
From 22-24 October, check out the unique solar powered tiny homes at The Extravaganza Fair at Bayfield Park. This travelling fair, with a creative, sustainability focus, features family fun with live music and shows, market stalls, foodie delights, rides and entertainment for the kids.
This Halloween, the Otago Museum is putting on a spooktacular evening for witches, wizards and warlocks, penguins, princesses, pirates and the like. Dress up and follow the clues through the galleries to find trick-or-treat fun, magic, surprises and prizes. Book your tickets - if you dare! - for a 4pm start on Monday, 31 October.
Show Me Shorts - The Sampler, Rialto Cinemas, Sunday 30 Oct 7:00pm
The Chills, Dive Bar,Thursday 13 Oct 7:30pm
Rhododendron Day Plant Sale, Dunedin Botanic Garden, Sunday 16 Oct 9:00am
The Extravaganza Fair Summer Tour, Bayfield Park, Saturday 22 Oct 9:00am
Trick or Treat!, Otago Museum, Monday 31 Oct 4:00pm
Edinburgh Careers Evening, Edinburgh Dunedin Office, Thursday 20 October 6-7pm