The Edinburgh Realty eNewsletter
Issue #125 | September 2023
Archive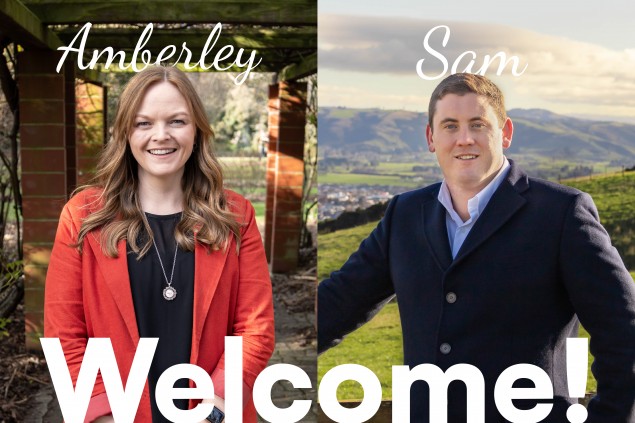 New team members
A warm welcome to Sam and Amberley, who have recently joined our growing sales team.
Amberley Thomson
Property Consultant – Mosgiel Office
"Born and raised on the Taieri and living in the region for most of my life, being able to return to Mosgiel to raise my own family is an immense privilege. I know what a great place it is to live."
"I have always had a passion for real estate, finding joy and satisfaction in introducing houses to family and friends and seeing the potential for them to become their homes. I also have a keen interest in investment properties and the value they can add to a property portfolio."
"I communicate openly and naturally and have the empathy and ear for clients' needs and wants, with the ability to build trusting relationships."
Sam Hislop
Property Consultant – Dunedin Office
"With my background in rural banking and my personal interest in property investment, I bring diverse experience to the team. At Edinburgh I work with my colleagues James and Amy Columb. Together we have grown a successful sales team who pride ourselves on the proven results we achieve for our clients and customers. As a team, we provide clients with a great breadth of skills: James's marketing expertise and experience, Amy's legal background and my own comprehensive knowledge and understanding of property transactions. You have three people – not one – working for you."
"Having previously spent 11 years in banking and finance, I have successfully facilitated transactions and investments for farmers and families in the south, from million-dollar lifestyle blocks on the Taieri to negotiations for $20 million dairy farms."
"I'm passionate about property and growing my knowledge. Whether it's listening to a podcast or reading an advisor's report, having a full understanding of market trends and financial fluctuations is important to me and gives me an ability to really assist both buyers and sellers to understand their position and make informed decisions. My aim is always to build long-lasting relationships based on trust, professionalism, and mutual success."