The Edinburgh Realty eNewsletter
Issue #83 | February 2020
Archive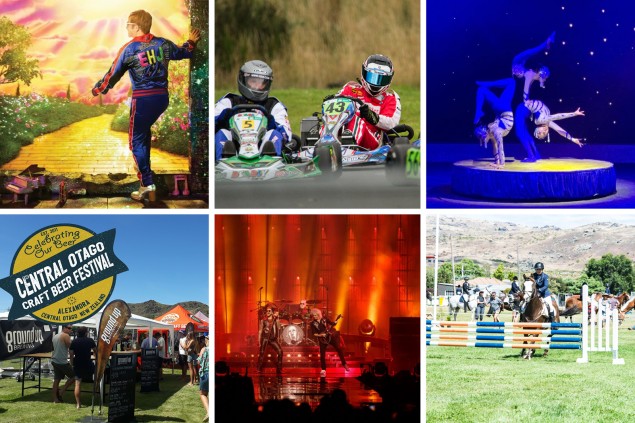 What's on: February in Otago
Super rugby and super stars, it's all go in Otago this month!
From 1 February, check out the Masters Games, over 60 sports, 5,000 competitors, and no, it's not too late to enter some of the events.
Tuesday night, it's all about the Rocket Man! Sing along with Sir Elton on the Farewell Yellow Brick Road Tour at Forsyth Barr Stadium.
Then have a ball on Monday 10 February with Queen + Adam Lambert.
This season, the Highlanders kick off early at 7.05pm for their first Super Rugby match. Score some tickets and settle in from 6pm on 7 February for an epic home game against the Sharks. Then on 28 February, party hard at the first student Zoo game for the year, when they play the Melbourne Rebels.
From the zoo to the circus! Run away to Zirka Circus, on the Oval, 6 – 23 February, for clowns, magicians, acrobats, motorbikes and "the most amazing bicycle act you'll ever see".
On 8 February, enjoy locally crafted wine, beer and music at the Central Otago Craft Beer Festival in Alex'. Then bring the family to the Central Otago A&P Show on 15 February in Omakau. Enter the pet parade and enjoy stalls and displays, equestrian sports, sheep, wool and shearing competitions, burly wood choppers, fashionistas, music and the Grand Parade. That's February in Otago, showcasing the best of the best.
Masters Games: 1 – 9 Feb
Elton John – Forsyth Barr Stadium: 4 Feb
Queen + Adam Lambert – Forsyth Barr Stadium: 10 Feb
Highlanders vs Sharks – Forsyth Barr Stadium: 7 Feb
Highlanders vs Rebels – Forsyth Barr Stadium: 28 Feb
Zirka Circus – The Oval: 6 – 23 Feb
Central Otago Craft Beer Festival - Pioneer Park, Alexandra: 8 Feb
Central Otago A & P Show – Omakau: 15 Feb
L to R (Top) Elton John - Forsyth Barr Stadium, Masters Games, Zirka Circus (Bottom) Central Otago Craft Beer Festival, Queen + Adam Lambert - Forsyth Barr Stadium, Central Otago A&P Show