The Edinburgh Realty eNewsletter
Issue #63 | June 2018
Archive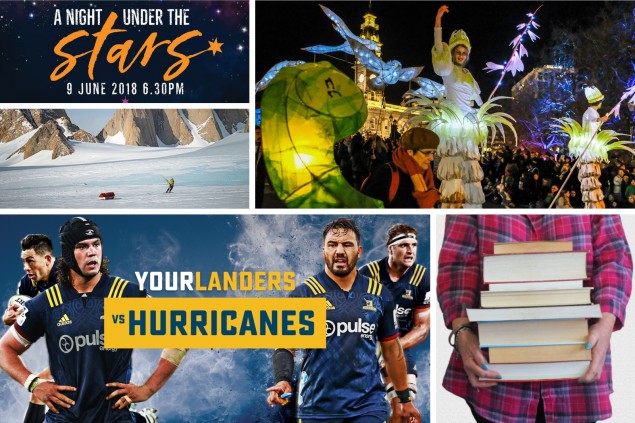 What's on: June in Otago
Venture out in June and you'll be richly rewarded – all the winter stars are out!
The Star Regent 24 Hour Book Sale, the largest book sale under the Southern Cross, opens its doors midday Friday 8 June. The Highlanders book-end June with Super Rugby – cheer them on against the Hurricanes on Friday 1 June at the Forsyth Barr Stadium, then head to your favourite bar or gather some friends couch-side for their battle with the Chiefs in Suva on 30 June.
Treat your soul to some real-life stars of American blues and jazz at the Jazz Gala, 5 June at the Mayfair Theatre, or The Ten Tenors from Aussie, belting out the classics on 9 June at the Dunedin Town Hall. A Night Under the Stars is the theme of this year's Otago Community Hospice Gala Event on 9 June, with Mark Hadlow and other performers, at the Otago Polytechnic. Ooh la la! Cheer on our All Black stars as they take on France in Dunedin, Saturday 23 June. Then wrap up the kids for the magical Midwinter Carnival, 30 June, as the Octagon becomes a lantern-lit wonderland.
Finally, put a flag in June with the NZ Mountain Film & Book Festival, a 9-day celebration of adventure, from 29 June, with events in Wanaka, Cromwell and Queenstown.
Highlanders vs Hurricanes, Fri 1 June, Forsyth Barr Stadium
The Star Regent 24 Hour Book Sale, Fri 8 – Sat 9 June, Regent Theatre, Dunedin
Jazz Gala 2018, 5 June, Mayfair Theatre, Dunedin
The Ten Tenors, 9 June, Dunedin Town Hall
A Night Under the Stars, 9 June, Otago Polytechnic
All Blacks vs France, Sat 23 June, Forsyth Barr Stadium
Mid-Winter Carnival, Sat 30 June, Octagon, Dunedin
Highlanders vs Chiefs, 8.35pm NZ time, Sat 30 June, Suva, Fiji
NZ Mountain Film & Book Festival, 29 June – 7 July, Wanaka, Cromwell, Queenstown
L to R: A Night under the Stars - Otago Community Hospice, Mid-Winter Carnival - FB @midwintercarnival, NZ Mountain Film Festival - Image & Banner Image by Mark Sedon, Pulse Energy Highlanders - Forsyth Barr Stadium, Regent Theatre 24 Hour Booksale