The Edinburgh Realty eNewsletter
Issue #126 | October 2023
Archive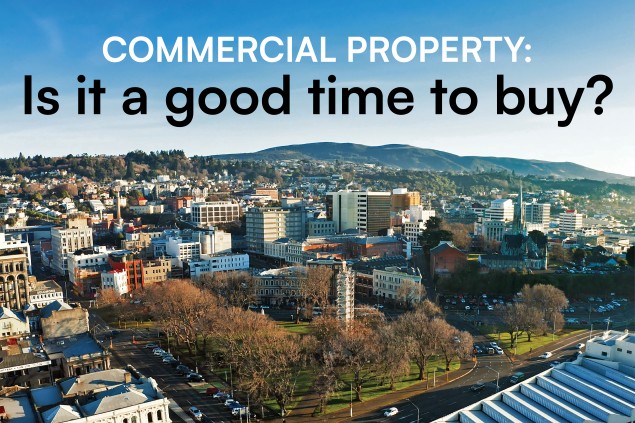 Is now a good time to buy commercial property?
Dunedin's commercial property sector is opening up with opportunities for owner-occupiers and entry-level investors. This comes at a time when residential property has seen considerable increase in compliance requirements, while lack of interest rate deductibility on mortgages has played a role in the return on investment for some residential portfolios.
Typically, commercial investors are looking for single or dual-tenanted, modern industrial commercial properties. This type of property is tightly held, however, and capitalisation rates are still competitive (the percentage return calculated by dividing a property's net operating income by the current market value). When these properties do come on the market, they are most likely sold by tender or deadline sale.
More commonly, we are seeing properties come to market that are offices or mixed-use, i.e. retail and occupied accommodation, or offices and retail that offer holding income and/or the ability to occupy or tenant. Some of these Dunedin City listings will be older stock - fronting George Street, Princes Street or South Dunedin's King Edward Street - with protected heritage facades. The Dunedin Heritage Fund accepts applications for assistance with upgrade work on such buildings. For more information, the Dunedin City Council heritage planning department is a great first point of contact. For an owner-occupier or an investor looking to diversify away from a residential portfolio, there will be some opportunities becoming available.
Remember, unlike residential properties, commercial tenants typically cover all outgoings for a commercial building – rates, insurance and building compliance costs. Structured rent reviews also make rent increases an easier process.
If interested in purchasing a commercial property, the first port of call is your bank to discuss your ability to fund a purchase, the deposit requirements, lending rates and the ability to borrow on an interest-only basis. Banks may ask about the building - its age, structural integrity or if it has an engineering assessment. Something to be aware of, if buying a building that is classed as earthquake-prone, and it has been assessed by a structural engineer, the building may not require any strengthening work for 35 years (until 2058) - unless you plan to change its use or make structural changes which could trigger further compliance.
Following this month's election, we are likely to see some movement in the market. Keep an eye out for new listings from Edinburgh, and if you have any questions at all about how to get into the commercial property market, please get in touch.
Click here for our latest commercial listings.
Contact our commercial sales and leasing expert Merrin Bath.
027 202 0903
merrin@edinburgh.co.nz
By Merrin Bath