The Edinburgh Realty eNewsletter
Issue #78 | September 2019
Archive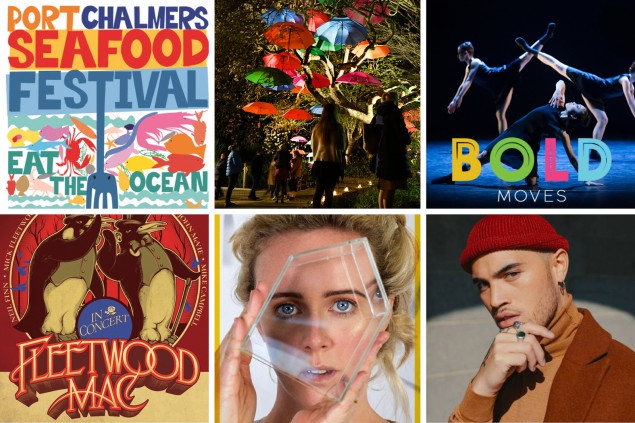 What's on: September in Otago
Check out what's on this month across Otago.
Events at the Regent Theatre have realty-appropriate titles this spring… starting on 6 - 7 September with A Doll's House. The Ibsen classic has been adapted to a present-day NZ setting by Emily Perkins in this production that promises to move you. Then, in Bold Moves, enjoy choreography set to Tchaikovsky, Bach vs electronica, and a new commission by Andrea Schermoly, in this dance extravaganza from three continents, on stage 11 September at the Regent.
Celebrate the Chinese Moon Festival on Sunday afternoon, 15 September, a time for family with cultural performances and activities, and plenty of yummy moon cakes, buns and all-day tea at the Dunedin Chinese Gardens. For more magical family fun, explore the Glenfalloch Night Garden on 19 September. Arrive in style by ferry and enjoy art and food in an enchanted woodland setting.
Don't stop thinking about tomorrow, it'll soon be here, along with Fleetwood Mac on their New Zealand Tour. See Mick Fleetwood and Stevie Nicks head the new line-up that includes Neil Finn, September 21 at the Forsyth Barr Stadium.
On 25 September, it's time to rock the Dunedin Town Hall with Jimmy Barnes, on his Shutting Down Your Town tour. It's been ten years since the 'working class man' made an original rock record – "I can't wait to get out there and play these songs, along with all the old favourites, to a live audience. It's going to be great!"
Then it's Stan Walker's turn to smash out some hits at the Dunedin Town Hall. See him on 27 September on his Springboard Tour for new single 'Give', and favourites like 'Black Box', 'Unbroken', 'Take it Easy' and 'Bulletproof'.
Finally, spend the last Sunday of September in style, soaking up the sights, sounds and Kai Moana of the Port Chalmers Seafood Festival. Catch live cooking demos, live local music and brews, and heaps of fishy fun for the kids, 28 September at Port Otago.
A Doll's House by Emily Perkins - Regent Theatre Dunedin: 6 – 7 September
Bold Moves – Regent Theatre Dunedin: 11 September
Chinese Moon Festival – Dunedin Chinese Gardens: 15 September
Glenfalloch Night Garden – Glenfalloch Woodland Garden: 19 September
Fleetwood Mac – Forsyth Barr Stadium: 21 September
Jimmy Barnes – Shutting Down Your Town Tour – Dunedin Town Hall: 25 September
Stan Walker - Springboard Tour – Dunedin Town Hall: 27 September
Port Chalmers Seafood Festival – Port Otago: 28 September
L to R (Top) Port Chalmers Seafood Festival, Glenfalloch Night Garden, Bold Moves – Regent Theatre Dunedin (Bottom) Fleetwood Mac – Forsyth Barr Stadium, A Doll's House by Emily Perkins – Regent Theatre Dunedin, Stan Walker Springboard Tour 2019 – Dunedin Town Hall