The Edinburgh Realty eNewsletter
Issue #116 | December 2022
Archive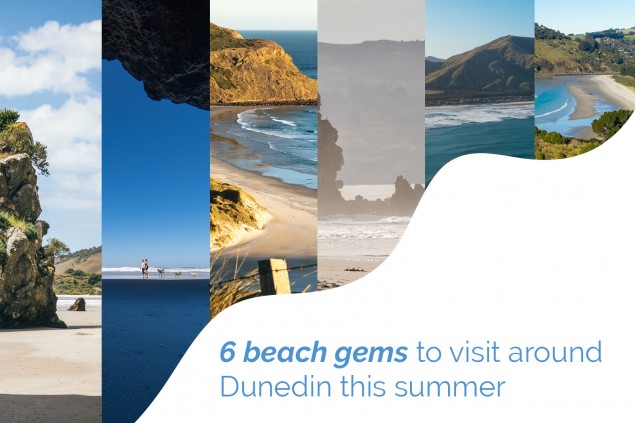 Six beach gems to visit around Dunedin this summer
"Let's go to the beach!" Traditionally, the first sandy stretch to come to mind will be St Clair or St Kilda – Dunedin's best known beaches, stunning and iconic. If you're just a little adventurous, however, Dunedin will spoil you with its rich variety of harbour and coastline beaches. Here are six sparkly beaches to get your toes into this summer.
Doctors Point
Located off Blueskin Bay, about 25km north of Dunedin, this reserve has walking tracks, sandy beaches, and a sea cave. Time your visit for low tide, so you can walk through the cave tunnel, and enjoy the full expanse of the beach, which extends as far as the Mapoutahi Pā site.
Sandfly Bay
Don't let the name put you off! You won't find many sandflies at this must-visit bay, 15km from central Dunedin. Enjoy instead magnificent views, towering sand dunes and wide beach, with breath-taking sunny-day views from above the bay. Bring a board - the dunes are fun for sand boarding, and stay up-beach of any fishy neighbours - New Zealand fur seals and sea lions often come ashore to snooze on the warm sand.
Tomahawk
Along from St Kilda, you'll find a lovely white sand beach, well-known to local beachgoers, dog walkers and surfers. Tomahawk has the convenience of the popular go-to beaches next door, without the busy crowds. For a longer visit, go when low tides allow a walk around the next bay to Smaills Beach.
Long Beach
Just a short drive over the hill from Port Chalmers or Waitati, this wee settlement is a peaceful holiday destination. With a shimmering white sand beach, 2.4km long, Long Beach is popular with families, campers and climbers, who also come to explore the caves and rock formations. The surf is relatively calm, making it a great spot for a picnic and a dip.
Allans Beach
Home to sea lions, fur seals and yellow eyed penguins, Allans Beach is a great spot to chance upon some native wildlife. Leave the swimming to these experts and your togs at home - Allans Beach is a typical scenic Peninsula beach, with rugged views and rough ocean. For the best view over the beach, take a walk up the Sandymount track, one of the best coastal hikes in Dunedin you'll find!
Mapoutahi Pā
The former Pā site steps up and juts out from the Osborne end of Pūrākaunui Bay, with the beach stretching towards the inlet and the Pūrākaunui settlement on the other side. While the historical pā is no longer there, the site is perfect to catch breathtaking sea and coastline views. If you're lucky, you might even glimpse one of the little blue penguins that nest nearby.
Images: DunedinNZ. L to R Doctors Point, Tomahawk Beach, Sandfly Bay, Long Beach, Allan's Beach, Mapoutahi Pā