The Edinburgh Realty eNewsletter
Issue #118 | February 2023
Archive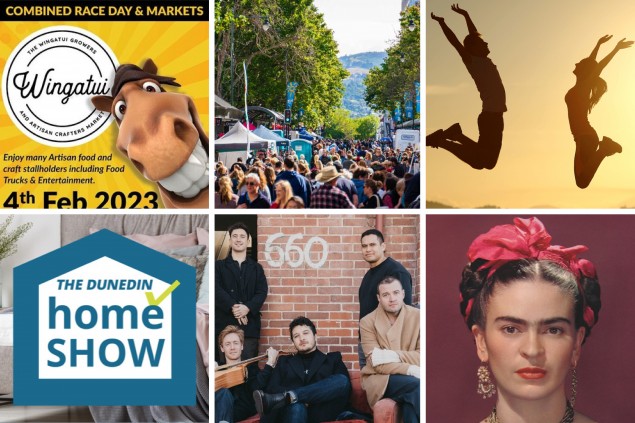 What's on this February in Otago
This month, it's back to school for the kids, weekends of summer markets, expos for home and fitness, and a Sunday of art gazing.
Grab a picnic blanket and have a great day out at the Wingatui Combined Race Day and Market on Saturday 4 February at the Otago Racing Club. Browse the stalls, and the horses, and treat yourself to some candy floss and food truck fare.
For another Otago market full of flavour and fun, visit the Thieves' Alley Market Day on 11 February in the Octagon. Enjoy the festive family atmosphere with non-stop entertainment, yummy food and unique local shopping.
That weekend, you can also "Find your Fit" at the Dunedin Fitness Expo. Discover the new sport or activity that suits you down to the ground, with spot prizes, membership deals, demonstrations and competitions, on 11 and 12 February at the Edgar Centre.
From Friday 24 February to Sunday 26 February, "find your fit" another way, at the Dunedin Home Show 2023. Bring your building and reno specs and find builders, renovation experts, kitchen companies, landscape, lighting and interior designers to help you with your project. It's a great opportunity to ask questions, view the latest products and ideas, and get inspired.
Kick back on Sunday 26 February with coffee, cake and Kahlo at the Otago Museum. Immerse yourself in a special screening of "Frida Kahlo", an Exhibition on Screen film of her life and art, in the Planetarium, while snapping up a sweet coffee and cake deal from the café.
Finally this month, a heads up for Six60 fans! Get your tickets and catch the band's home town Six60 Saturday concert, Saturday, 4 March, at Forsyth Barr Stadium.
L to R (Top) Wingatui Combine Race Day and Market, Thieves' Alley Market Day, Dunedin Fitness Expo, Dunedin Home Show, Frida Kahlo Exhibition, Six60 Concert