The Edinburgh Realty eNewsletter
Issue #58 | January 2018
Archive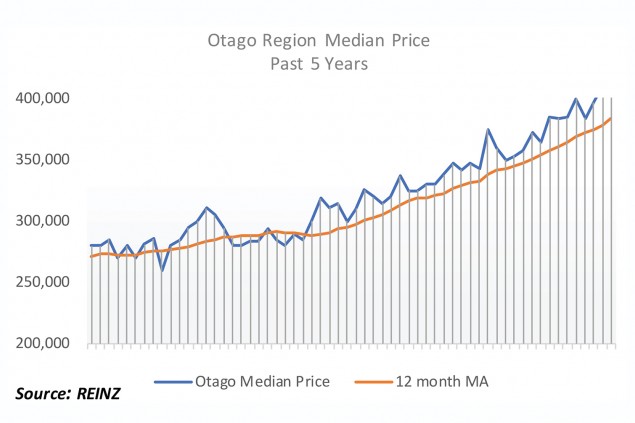 More property coming onto Dunedin market
Prices of property in Dunedin city continue to climb, according to the latest Real Estate Institute of New Zealand (REINZ) data.
Dunedin's median price for November 2017 was $385,000 – up 20% on November 2016, when it was $320,000. Sale volumes were down 10%, to 247 transactions, compared to 275 in November last year.
Commentators report some uncertainty, related to the new government, but are seeing an increase in stock coming onto the market.
Central Otago
November's median price in Central was $466,000 (from on 47 sales) – up 15% compared to the November 2016 median of $405,500 (55 sales).
National overview
The number of properties sold in November across New Zealand increased 18% from the previous month – the largest October-to-November increase seen in six years. Excluding Auckland, the increase was 19% month-on-month; in Auckland, it was 14%.
All regions, except the West Coast, saw sales volume increases, in comparison to October. Otago volumes rose by 32%.
REINZ Chief Executive Bindi Norwell says that, after a difficult winter and a slow start to spring, the real estate industry has experienced a lift in optimism and activity.
Data courtesy of REINZ