The Edinburgh Realty eNewsletter
Issue #52 | July 2017
Archive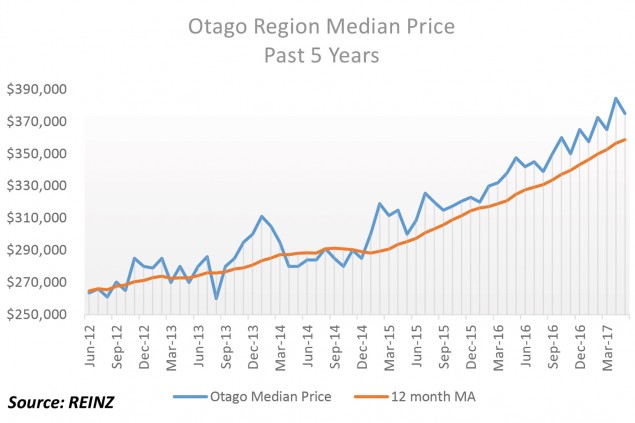 Dunedin median price up $48,000
Dunedin city's median price rose by $48,000 (16%) between May 2016 and May 2017, to $355,000. 
The latest Real Estate Institute of New Zealand (REINZ) statistics also show sales volumes were back 17% over the same period, down from 256 to 213.
Commentators say the limited number of houses available to meet buyer demand remains an issue.
The overall Otago median price (incorporating Central, Clutha, Dunedin, Queenstown Lakes and Waitaki) was up 8%, from $347,500 to $375,000.
Central Otago
Central's property market remains positive. The May 2017 median price was $415,000 from 49 sales, compared to a May 2016 median of $370,000 from 40 sales.
Commentators report that sellers are continuing to achieve good results and more properties are needed to satisfy buyer demand.
Nationwide
The national median house price increased 7% to $540,000 in the year to May 2017.
REINZ Chief Executive Bindi Norwell says the May stats show continued buoyant activity across several regions, with record median prices achieved in Northland ($450,000), Manawatu/Whanganui ($269,000), Nelson/Marlborough ($483,250) and Southland ($238,000).
House Price Index
The HPI reinforces the overall status of the market – that there is strong price growth in some regions and a stable market in Auckland.
The index reveals New Zealand's housing market activity year-on-year has lifted 5% – up 2% in Auckland and 11% outside of Auckland. However, on a month-on-month basis, activity was down 0.4% (down 0.7% in Auckland and up 0.2% outside Auckland).
Data courtesy of REINZ