The Edinburgh Realty eNewsletter
Issue #66 | September 2018
Archive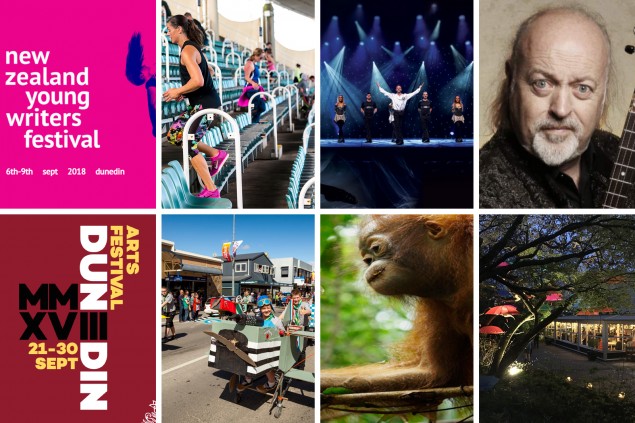 What's on: September in Otago
September bursts into life with festivals and events to celebrate spring and leave you glowing.
Head to the Alexandra Blossom festival on 21 September for three days of blooming good fun – race around the clock, party in the park and watch the procession.
From blossoms to books - enjoy workshops, performances and "bookish social festivities" from 6 – 9 September at the NZ Young Writers Festival. Then celebrate the "excellent and the extraordinary" from 21 - 30 September at Dunedin's 10th biennial Arts Festival.
Give the arts a rest and limber up for the Forsyth Barr Stadium Climb on 16 September. Tackle 5,200 stairs to raise money for Leukaemia & Blood Cancer NZ. Then on the 19 September get those tired feet tapping along to Celtic Illusion at the Regent Theatre - for an "explosive" fusion of Irish dance, heart-racing music and illusion.
Curious about Cockney crab-dancing? See Bill Bailey - "UK's very own straggle-haired polymath" - in his latest comedy music show on 21 September. Further indulge your affection for straggle-haired red heads at the Regent by viewing the NZ premiere of Orangutan Jungle School - a fundraising event for the Borneo Orangutan Survival Fund and the Wildlife Hospital Dunedin.
Not exactly jungle, but you'll find much to explore at the end of the month. Under a golden glow, discover sculptures by local artists within the lush gardens and woodland trails of Glenfalloch's Golden Night Garden.
New Zealand Young Writers Festival: 6 – 9 September, Dunedin
Stadium Climb: 16 September, Forsyth Barr Stadium
Celtic Illusion: 19 September, Regent Theatre
Bill Bailey: 21 September, Regent Theatre
Arts Festival: 21 – 30 September, Dunedin
Alexandra Blossom Festival: 21 – 24 September, Alexandra
Orangutan Jungle School – NZ Premiere: 25 September, Regent Theatre
Glenfalloch Golden Night Garden: 27 – 29 September
L to R: NZ Young Writers Festival, Stadium Climb, Celtic Illusion, Bill Bailey, Dunedin Arts Festival, Alexandra Blossom Festival, Orangutan Jungle School, Glenfalloch Golden Night Garden