The Edinburgh Realty eNewsletter
Issue #93 | January 2021
Archive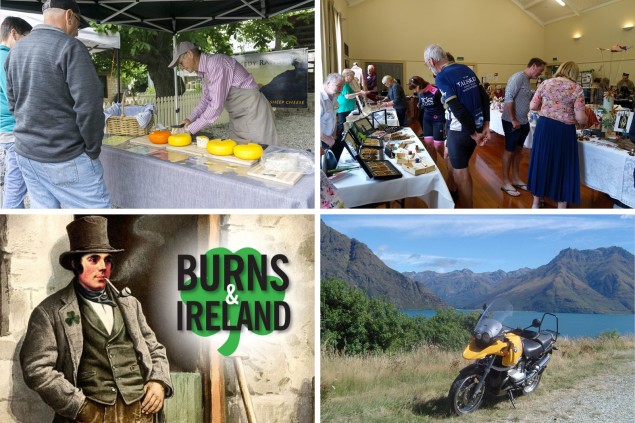 What's on - January in Otago
January in Otago offers a great mix of summer fun, from a pool party and BBQ to markets, motorcycles, bagpipes and fossils!
On 12 January bring the kids out into the sunshine for the St Clair summer pool party. From noon until 3pm, enjoy a splash, poolside fun and a free sausage sizzle with friends at the Salt Water Pool.
If you're partial to a lively market atmosphere, don't miss the Cromwell Farmers and Craft Market, held every Sunday in the Cromwell Heritage Precinct - for live music, fresh produce, food stalls, coffee and crafts. On Saturday 23 January, set your crafty compass to the Artisan Markets at the Port Chalmers Town Hall. From 10am to 4pm, make a day of it port-side - scouring the market and local boutiques for treasures and relaxing with a hearty landlubber's lunch.
Robbie Burns was born on 25 January 1759. This year, a Monday - seek y'self a wee ticket or two and gaun along for a night o' bonny birthday celebrations - hosted by the Burns Club and Toitū (Burns Night).
Budding paleontologist in the family? Join the fossil expedition, leaving Saturday 30 January from the Otago Museum. Gather your kit including hammer and chisel, mask and gloves, and be prepared for some serious fossil fossicking (Fossil Hunting Field Trip).
If 'adventure' to you means 'motorcycle', it's time to hit some trails for Bike Week NZ, 30 January to 5 February. Based in Bannockburn, explore the hills and highways around sunny Central. The Vincent Country Rally follows on 5-7 February at Alexandra, before the Burt Munro Challenge, 10-14 February.
L to R (Top) Cromwell Farmers and Craft Market, Port Chalmers Artisan Markets (Bottom) Burns Night - Toitu, Bike Week @ Bannockburn