The Edinburgh Realty eNewsletter
Issue #95 | March 2021
Archive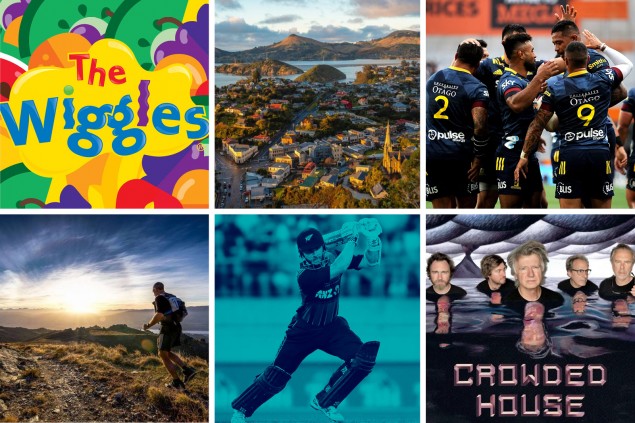 What's on this March in Otago
With the Covid-19 alert level changes, please check closer to the time to make sure events are still running. We feel for the organisers and hope we will get to enjoy some of the fabulous sports, music and culture on offer this month in Otago.
Crowded House fans will be counting down to 11 March, when the Finn brothers hit town for their To the Island Tour. And little music fans will be super excited about The Wiggles wiggling to town on 20 March for the We're All Fruit Salad Tour. Dance and sing along to your favourites at the Dunedin Town Hall.
For a grand day out, head to Port Chalmers on Saturday, 20 March. Celebrate our wee harbour town from 11am with artisan markets, buskers, face painting, food trucks, lucky shopper prizes, local shops and cafes. Catch the 1:30 train running from Dunedin, returning 6pm.
For a challenging day out "where suffering is the prize and everyone's a winner" you need the Northburn 100 mountain ultra, 20 March, in Cromwell. The Northburn Station event has options from 50km to 160km with climbs from 2200 to 8000 vertical meters, and shorter distance, night, and kids events.
Or if you prefer, pack the hamper and the picnic rug and relax with a day of international cricket. Watch the Blackcaps take on Bangladesh in an ODI on 20 March at the University Oval.
Finally, get some Highlander action when the Hurricanes come to town, Friday 26 March at the Forsyth Barr Stadium. Head along and cheer on our boys!
Crowded House - To The Island Tour – Dunedin Town Hall: 11 March
The Wiggles NZ Tour – Dunedin Town Hall: 20 March
Port Chalmers Day – Port Chalmers: 20 March
Northburn100 – Northburn Station: 20 March
Blackcaps vs Bangladesh ODI – University of Otago Oval: 20 March
Highlanders vs Hurricanes – Forsyth Barr Stadium: 26 March
L to R (Top) The Wiggles NZ Tour, Port Chalmers Day, Highlanders vs Hurricanes (Bottom) Northburn100, Blackcaps vs Bangladesh ODI, Crowded House - To The Island Tour