The Edinburgh Realty eNewsletter
Issue #68 | November 2018
Archive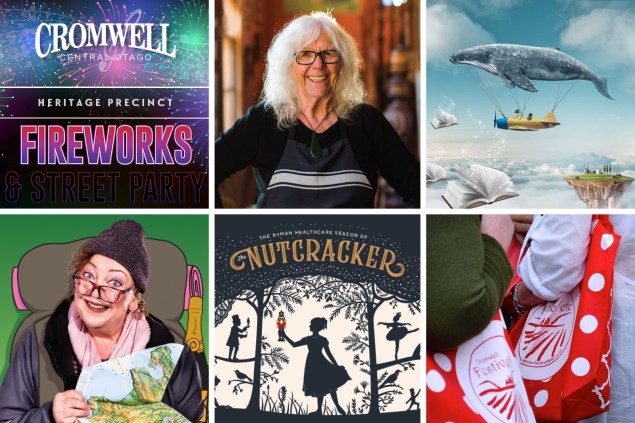 What's on: November in Otago
This month starts with a bang! Cromwell gets the party started on Friday 2 November at the Heritage Precinct - with live entertainment, a night market and a fireworks finale over Lake Dunstan. On 3 November 'lively up yourself' at the South Dunedin street festival with food, music and family fun.
Then grab tickets for the weekend's Great Kiwi Home & Living Show at the Forsyth Barr Stadium for a taste of all that's happening in home design – with displays, demos and designer chefs to inspire the taste buds.
Inspire the budding Margaret Mahy in your family at the Ignition Kids Book Day on 3 November at the Dunedin City Library, where they can glean gems of wisdom and autographs from favourite guest authors and illustrators.
For a bit of a laugh get a group together for the Roger Hall play 'Social Climbers' at the Regent on 4 November. Who knew six women stranded in a mountain hut could be so hilarious?
Cracking on to 17 and 18 November, the Royal New Zealand Ballet and the Dunedin Symphony Orchestra perform Tchaikovsky's tale 'The Nutcracker', a pre-Christmas treat for fans of the sugar plum fairy.
Cromwell takes the checkered flag for November – with car racing and Christmas shopping. Take in the action of the Highlands Sprint Series – round two - on Sunday 25 November at the Highlands track. Or get into the pre-Christmas spirit at the Cromwell Festive Fête with local wines, beers, food and shopping, at the Cromwell Racecourse – a relaxed day out before the silly season gets cracking.
Cromwell Street Party & Fireworks: 2 Nov, Cromwell Heritage Precinct
South Dunedin Street Festival: 3 Nov, South Dunedin
The Great Kiwi Home & Living Show: 3 – 4 Nov, Forsyth Barr Stadium, Dunedin
Pictured: One of the Great Kiwi Home & Living Show celebrity chefs - Fleur Sullivan
Ignition Kids Book Day: 3 Nov, Dunedin City Library
Social Climbers, a play by Roger Hall: 4 Nov, Regent Theatre, Dunedin
The Nutcracker: 17 & 18 Nov, Regent Theatre, Dunedin
Highlands Sprint Series - Round 2: 25 Nov, Highlands Motorsport Park, Cromwell
The Cromwell Festive Fete: 25 Nov, Cromwell Racecourse
L to R: Cromwell Street Party & Fireworks, The Great Kiwi Home & Living Show - Celebrity Chef - Fleur Sullivan, Ignition Kids Book Day, Social Climbers a play by Roger Hall, The Nutcracker, The Cromwell Festive Fete