The Edinburgh Realty eNewsletter
Issue #104 | December 2021
Archive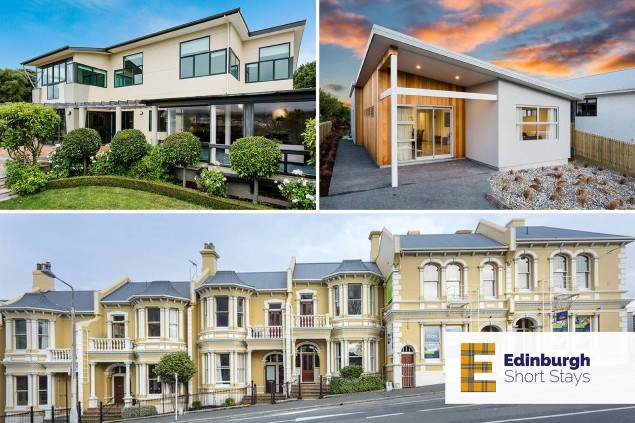 Book a Short Stay break this summer
Our beautifully presented Edinburgh Short Stay homes provide everything you need for a much-needed midsummer break in Dunedin. Taking bookings now for January and February, enquire now to secure your getaway.
In the heart of the city
These three beautifully refurbished terrace houses share views of St Paul's Cathedral, less than a block from the Octagon. Sleeping up to 10 or 11 guests in executive-style comfort, you'll appreciate your very own city pad for exploring Dunedin this summer, with vibrant dining, entertainment, sport and fashion right on your doorstep.
10 guests 4 bedrooms 5 beds 2 bathrooms
The Stuart Street Terraced House
10 guests 6 bedrooms 6 beds 2 bathrooms
Inner City Executive living on Stuart Street
11 guests 4 bedrooms 5 beds 2 bathrooms
New and funky beach styles
6 guests 3 bedrooms 4 beds 2 bathrooms
Overlooking Tomahawk Lagoon and within a short stroll to the beach, you'll have everything you need for entertaining guests in luxury and style this summer.
4 guests 2 bedrooms 2 beds 2 bathrooms
Music lovers will dig Bobby's Workshop - a relaxing and fun retreat in Musselburgh, with an eclectic decor and Bobby's original hifi gear and records for your entertainment.
Hilltop getaways
6 guests 3 bedrooms 4 beds 1 bathroom
This stunning villa is in a great location close to town and the Mornington Village, where you can enjoy the playground with the kids and a summer treat or two from Patti's & Cream, Dunedin's famous ice cream maker.
8 guests 3 bedrooms 3 beds 3 bathrooms
Located close to town in The Cove with panoramic views of the harbour, this spacious home soaks up the summer sun with everything on hand for a relaxed and enjoyable stay, with an outdoor fire and even a grand piano.
8 guests 4 bedrooms 5 beds 3 bathrooms
A quality, spacious and modern home in a quiet, sunny lane close to St Kilda beach. Enjoy impressive harbour and city views, award-winning gardens and lawns, and a courtyard fire and BBQ for exceptional outdoor entertaining.
Beachside breakaways
The Lookout - Absolute Beachfront, Karitane
7 guests 3 bedrooms 6 beds 1 bathroom
Find your happy place, with unique coastal views and private access to Karitane's white sand beach. Set at the end of a peaceful cul-de-sac, there's room to park the boat or leave the toys at home and simply enjoy the view.
4 guests 2 bedrooms 2 beds 1 bathroom
Combining the best of 1890s charm and character with modern convenience, this beautifully renovated cottage is handy to St Kilda beach and the city. Treat yourself to a weekend of beachside luxury.