The Edinburgh Realty eNewsletter
Issue #54 | September 2017
Archive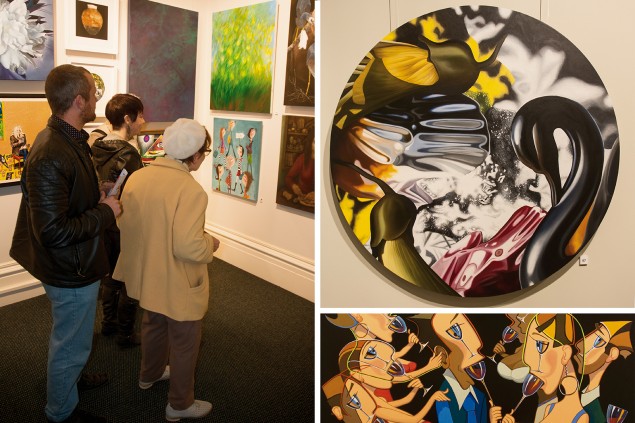 Local artist takes out top prize at Edinburgh Art Awards
The Edinburgh Realty Art Awards are nearly over for another year. This weekend is your last chance to view the 2017 exhibition.
First prize of $3000 was taken home by Rod Eales, for her painting 'Fragments of an Icon'. It is the second time Rod has won the award's highest accolade.
Judge John Toomer described the work as photo realism, with contemporary abstract overtones. "Wonderfully designed and beautifully painted, the blending/brush strokes are top shelf. This local artist has consistently produced highly-skilled, original work for many years."
He applauded Rod's planning and skill in achieving the overall visual result. "It's a stunner."
Otago Art Society president Nic Dempster says that the awards have picked up steam in recent years and continue to attract a high number of entries of outstanding quality.
"Although all the place getters were from the Otago region, we are seeing more entries from Christchurch and Marlborough, which is great for the diversity and promoting the Awards.
The Otago Art Society is grateful to Edinburgh Realty, as it moves into a second decade of supporting the arts."
53 of the 194 artworks have sold over the duration of the exhibition so far.*
Placings and judge's comments
First: 'Fragments of an Icon' by Rod Eales
Second: 'Tree Avenue' by Nigel Wilson
We see an artist who is on top of his chosen painting medium. There is a direct and confident technique throughout the work. With lovely rich layers of colour, this work makes a visual statement.
Third: 'Little One' by Rachel Sutton
Whether you view it up close or some distance back, it's a powerful painting – 'an attention seeker'. It has strong, confident stroke work and the ultimate success is the 'eyes'. They are almost hypnotic if you look at them for too long.
Merit: 'Serenity' by Mehrdad Tahan
Good charcoal and pencil drawings are never really acknowledged or appreciated, compared with painted works. This piece – almost abstract in design – is not overworked. It is simple in subject, but beautifully executed.
Merit: 'Michael's Yacht' by Phillip Edwards
An intriguing work that somewhat challenges compositional theories. It's painted very confidently, highly detailed, and successfully conjures a scene full of light and atmosphere.
Edinburgh Award: 'Party Night' by Barry Thomas Weston
The People's Choice Award: To be announced after the exhibition has closed and the votes are counted. Keep an eye on next month's newsletter.
It's not too late to enjoy the artworks yourself. Head along to the Otago Art Society rooms at the Railway Station (remember a gold coin for entry), between 10am and 4pm before Sunday (3 September).
Or view the winning artworks now.
View a short video or still images
* If you purchased artwork, your piece/s can be collected 4-6pm on Sunday.